3D Graphical Modeling & Detailing Software
Soft Steel is a three dimensional Structural Steel Detailing Software for any type of structural steel project. Created by detailers for detailers which translates into the most intuitive and easiest program to learn and use in all detailing programs.
Soft Steel automatically produces high quality shop drawings from your 3D model, with the old fashioned drafting standards often missing from the other detailing systems, connection conflicts and clashes are resolved automatically.
Embedded built in AutoCAD commands and extensive use of ARX Technology results in a powerful yet intuitive way to operate with a sophistication of results.
This detailing software automatically produces structural steel fabrication drawings quickly, accurately and efficiently. Soft Steel has been designed with simplicity of operation in mind so that the user requires no special skills to run the system.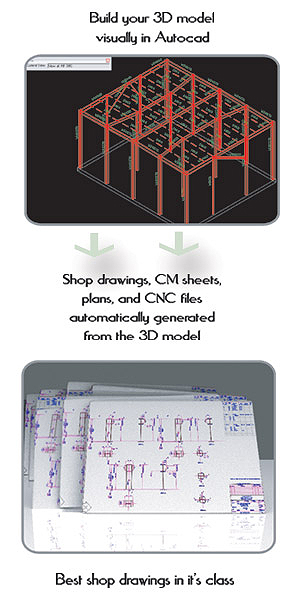 Features
Shop Drawings
CM Drawings
Erection Drawings
Reports
CNC files
Build your Model, Steel, and Connections Visually in Autocad
Use all Autocad's tools
Easy to Learn
Easy to Use
Easy to Verify
Flexible
Fully Automated
Fast
Intelligent
Collation
New Features
Fastest turn around time for shop drawings
of any detailing system.
All connection material detailed on
separate sheets with sub-assembly marks.
The cleanest, best organized, automatically
composed and generated shop drawings
available anywhere.
Download to CNC and MIS software.
Only 2-3 days training required.
No real computer skills required.
Visually build your 3D model in Autocad
165+ Fully Automated Parametric
connection types